Welcome to rocherolle.com!
Please click on the this link to visit Aureus Recordings, home of
Eugenie Rocherolle's CD recordings.
See Eugenie's latest CD "Touch of Blue"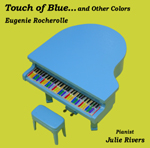 Click here to view a performance of Eugenie's new chamber piece
CRESCENT CITY CONNECTION!!
To browse Eugenie Rocherolle's collection of Piano repertoire click here.

NEW!
Click here to read what the critics have to say about Eugenie Rocherolle and her music
Click Here to visit the web site of Julie Rivers, the pianist featured on Eugenie's CDs
Aureus Recordings © Copyright 2011. All rights reserved